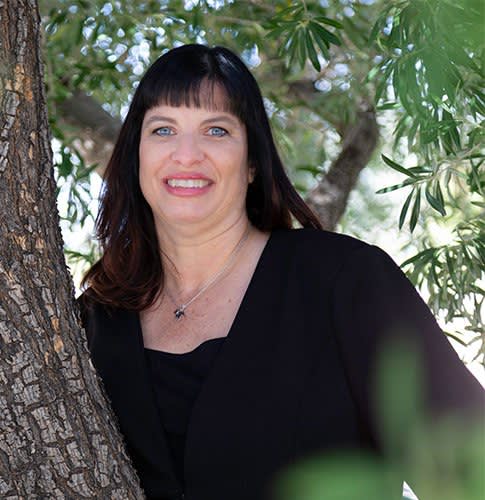 Lynda Vescio grew up in Westchester County, New York. She graduated from Mount Holyoke College, in Massachusetts, with a Bachelor of Arts, cum laude, in 1992 and New York University School of Law in New York City in 1995 receiving a Juris Doctorate.
Lynda's early years as a litigator were spent in large law firms based in New York City. There, she practiced civil litigation primarily involving business disputes, contracts, fraud, torts, breach of fiduciary duties, Constitutional law and class actions. She won awards in 1998 and 1999 and was recognized as one of the two top performing litigation associates in a department of 50 associates in 2000.
In 2002, Lynda moved her practice to Arizona where she practiced at the Phoenix office of a national law firm and then at a Phoenix-based regional firm. In 2005, after a decade of practice in civil and commercial litigation, she transitioned into government work, representing Arizona's children and families. In that role, she earned the "Emerging Star" award for her section in 2006 and was a Team Leader.
In 2008 LOVS was founded for the purpose of providing quality, affordable, and compassionate legal services to Arizona's families and businesses.
ADMISSIONS
District of Arizona, 2002

Arizona State Courts, 2002

Southern District of New York, 1996

Eastern District of New York, 1996

New York State Courts, 1996
MEMBERSHIPS, AFFILIATIONS AND VOLUNTEER ACTIVITIES
Arizona State Bar, Family Law Practice and Procedure Committee (present)

Arizona State Bar, Solo Practioner and Small Firm Executive Committee (2011-2015)

Chrysalis (2004-2006)

Glendale Chamber of Commerce Board of Directors (present)

Glendale Board of Adjustments (2013-2017)

Glendale Community Development Advisory Commission (present)

Glendale Neighborhood Advisory Committee (2006-2008)

High School Mock Trial coach (2008-2015)

Leadership West, Class XVIII

New Life Center Legal Education Services Program – founder (2012-2014)

West Valley Child Crisis Center/Home Community Services Board of Directors (present)
LECTURES / PUBLICATIONS
Presentation, Glendale Chamber of Commerce, Business Owner Mistakes You Don't Want to Make (September 2017)

CLE, Overview of Adoption and Non-Parent Custodial Issues – Chair (May 2017)

CLE (Maricopa County Association of Paralegals), Discovery and Disclosure in Juvenile Court (February 2017)

CLE, Juvenile Court for the Family Lawyer, What You Need to Know (June 2016)

CLE, Supreme Court Updates (May 2016)

Glendale Chamber of Commerce, Presenter at the monthly meeting (March 2016)

CLE, Family Law Disclosure and Discovery Rules (May 2014)

Featured Attorney, Greater Phoenix Attorney At Law Magazine (April 2012)

CLE, Custodial Options (2011)

CLE, Cross Examination Techniques (2007)

CLE, Objections, and Documents at Trial (2007)

CLE, Legal Research and Writing (2003)

"Manufacturer-to-Patient Advertising: Further Advice Following Perez," `Product Liability Law & Strategy, January 2000, co-authored